FOLAW is working on a project to install interpretive signs about mercury. They will be installed at the Hacienda Staging Area in Almaden Quicksilver County Park near Los Alamitos Creek.
In recognition that the public may not know the impact of mercury on their health and the environment, these signs will specifically address the current scientific issues involved in the health of humans, animals, birds and fish. We will design, manufacture and install several science-based interpretive signs in cooperation with the Santa Clara County Parks and Recreation Department.
The following 3 sets of double-sided mercury interpretive signs were designed for the Hacienda Kiosk display:
Set 1
Panel A - Sign 1 - How Does Mercury Get to Here?
Panel B - Sign 2 - Why Is Methylmercury in Our Fish?

Set 2
Panel C - Sign 3 - Mercury & Compounds of Mercury
Panel D - Sign 4 - Why Are Mercury and Its Compounds a Concern?

Set 3
Panel E - Sign 5 - What Methods Are Used to Control Mining Discharge in the Watershed?
Panel F - Sign 6 - What Methods Are Used to Reduce Mercury in Our Lakes?

Future Signs
The World of Mercury
Sources
Location:
This shows the proposed location for the signs, at the edge of the Hacienda Staging Area's parking lot, before the overflow lot and the Hacienda Mining Equipment Display: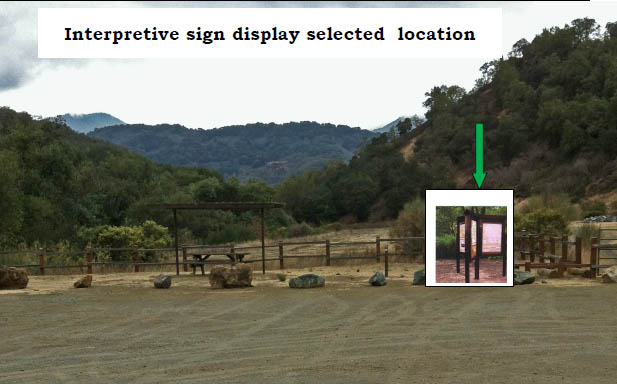 These are planning and background documents on the sign design:
Here are the latest sign designs.

These are additional reference documents relating to the signs.